Limited Access to Baltics' E-commerce Market Addressed with banklinq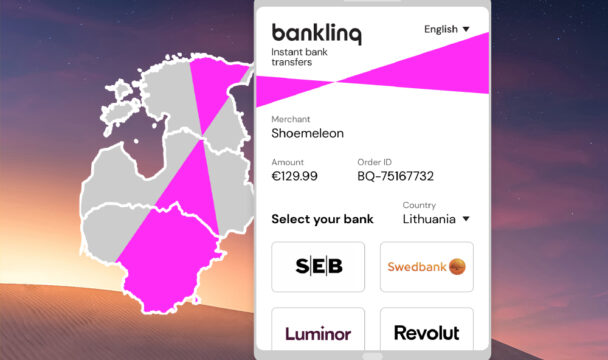 The continuing global e-commerce boom highlights old issues of Local Payment Methods (LPMs) some regions, like the Baltics, still face. Offering a region-tailored solution, Nikulipe, a Fintech company, is launching a new LPM to tackle the problem.
August 23, 2021. E-commerce in 2020 has seen an impressive surge as worldwide retail online sales saw a 27.6% growth rate with sales reaching over $4 trillion. This upward trajectory is expected to continue—by 2023 global e-commerce is predicted to be worth a sound $6.5 trillion, up by 22% from 2022 estimates. The Baltics are no exception in this—Lithuania's e-commerce revenue is projected to reach $889 million in 2021, while Latvia and Estonia are expected to reach $345 million and $405 million respectively.
The continuing e-commerce boom, however, brings back one of the key problems some regions still face—current LPM (local payment method) options do not reflect the needs of global merchants, this way limiting the access for them and potential consumers.
The Baltics region is experiencing this issue as well. More than 65% of Baltic shoppers have a preference for paying through online banking, which has become the dominant payment method in the region. However, only around 20% of them have a credit card—roughly 17% of Lithuanians and Latvians, and 29% of Estonians—bringing limitations to consumers in terms of shopping on international e-commerce platforms, as well as restricting market access for international merchants; well over 60% of Europeans tend to abandon their shopping cart if they cannot pay with their favourite payment method. In addition, global payment providers which service the Baltic states, are often unaware of the market needs, offering access only to a small traditional and challenger bank network.
One way to address this issue is by offering an innovative payment method, specifically tailored for the region, that would be able to connect global merchants to the Baltics market in an easy and hassle-free way. Nikulipe, a Fintech company creating and connecting Local Payment Methods to access Emerging and Fast-Growing Markets, is the first one to undertake the issue that the Baltics are facing, by launching a new product for the region—banklinq.
Banklinq will be the first Local Payment Method to address regional complexities by combining the local know-how and global experience, helping international merchants become more familiar with and trusted by local shoppers, paving the way to access new user markets.
"By connecting the largest number of leading local financial institutions in Lithuania, Latvia, and Estonia, including major traditional and challenger banks, we are easing the access for international merchants that are looking to expand their businesses and reach new customers, but are limited by regional intricacies, like regulatory processes," explains Frank Breuss, CEO and co-founder of Nikulipe. "Incorporating region-specific payment solutions puts businesses one step ahead in the game as the local knowledge goes a long way with customers, who are used to certain ways of paying for goods and services."
Built upon open banking and adhering to EU regulations, banklinq will offer a payment option that covers all relevant banks in the region, bringing the Baltic consumers to global merchants. One convenient API ensures an efficient market entry without being caught up in technicalities, as the local regulatory landscape, processing, collection, reconciliation, settlement, remittance, and other processes will be navigated by banklinq experts.
"The Baltics is one of the fastest-growing e-commerce markets in Europe, contributing to the worldwide e-commerce growth rate of 26% last year," observes Breuss. "This growth is attracting a number of new businesses to the region, but the current Local Payment Methods are, unfortunately, not fit for international merchants and make it more difficult for them to access the market. We want to change that."
The growth that global e-commerce continues to experience is, in turn, bringing back some of the rooted issues in Local Payment Methods which have not been addressed yet. The Baltics being one of the regions facing these problems as well, the region-specific solution like banklinq could be the answer to the limited access international merchants and consumers experience in Lithuania, Latvia, and Estonia.